I'm having trouble getting subsampling working for a model with nested plates. Model, MWE, and error below. m, c_ij, and s_ij are all binary (but set as Categorical to allow for future expansion of the domains). Their CPDs (the p variables) are all drawn from a currently uninformative Dirichlet prior. The observed variables are m, c, and s (for machine, metric, sample).
Initially, if I leave out subsampling then SVI runs fine, and I'm able to recover the correct CPDs for p_m and p_s (based on training data I simulate; not shown here), although I can't yet correctly recover p_c, so I suspect something is off with indexing into that CPD on the c sample line.
Additionally, and perhaps more simply, when I do try to use subsampling on the inner plate, I get a dimension mismatch at site c error. Looking at the shape trace it seems the value at s is not properly getting subsampled, but its distribution is. This is odd, because if I examine the shapes of the variables returned by m, s, c = model(S, R) they all look to be correctly subsampled.
Any idea why this is happening? I'm hoping that fixing this subsampling error will in turn allow the model to properly recover p_c. Thanks!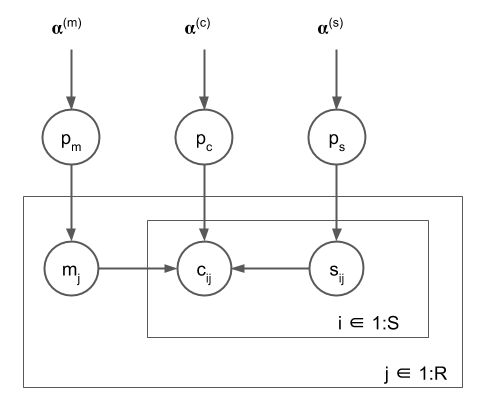 MWE:
import numpy as np
import torch
from torch.distributions import constraints
from pyro.ops.indexing import Vindex
import pyro.optim
import pyro.infer
import pyro.distributions as dist

R = 20
S = 100
subsample_size = 10

def model(S, R):
    
    run_plate = pyro.plate('run_plate', R, dim=-1)
    sample_plate = pyro.plate('sample_plate', S, dim=-2, subsample_size=subsample_size)
        
    # global CPDs
    p_m = pyro.sample('p_m', dist.Dirichlet(torch.ones(2)))
    p_s = pyro.sample('p_s', dist.Dirichlet(torch.ones(2)))
    with pyro.plate_stack("c_plate", (2,2)):
        p_c = pyro.sample('p_c', dist.Dirichlet(torch.ones(2,2,2)))
    
    # data
    with run_plate:
        # machine
        m = pyro.sample('m', dist.Categorical(p_m))
    
        # sample and metric    
        with sample_plate:
            s = pyro.sample('s', dist.Categorical(p_s))
            c = pyro.sample('c', dist.Categorical(Vindex(p_c)[m, s, :])) # (machine, sample, metric)
            
    return m, s, c
        

def guide(S, R):

    # machine
    m_prior = pyro.param('m_post', machine_prior_t, constraint=constraints.positive)
    p_m = pyro.sample('p_m', dist.Dirichlet(m_prior))
    
    # sample
    s_prior = pyro.param('s_post', sample_prior_t, constraint=constraints.positive)
    p_s = pyro.sample('p_s', dist.Dirichlet(s_prior))
    
    # metric
    c_prior = pyro.param('c_post', metric_prior_t, constraint=constraints.positive)  # (machine, sample, metric)
    with pyro.plate_stack("c_plate", (2,2)):
        p_c = pyro.sample('p_c', dist.Dirichlet(c_prior))
  

# condition model on dummy MWE data
observations = {'m': torch.ones(R, dtype=torch.long),
                's': torch.ones((S, R), dtype=torch.long),
                'c': torch.ones((S, R), dtype=torch.long),
                }
cond_model = pyro.condition(model, data=observations)

# run svi
svi = pyro.infer.SVI(cond_model, guide, pyro.optim.Adam({"lr": .0001}), loss=pyro.infer.Trace_ELBO())
for step in range(10000):
    svi.step(S, R)

Error:
ValueError: Shape mismatch inside plate('sample_plate') at site c dim -2, 10 vs 100
    Trace Shapes:           
     Param Sites:           
    Sample Sites:           
   run_plate dist        |  
            value     20 |  
sample_plate dist        |  
            value     10 |  
         p_m dist        | 2
            value        | 2
         p_s dist        | 2
            value        | 2
   c_plate_0 dist        |  
            value      2 |  
   c_plate_1 dist        |  
            value      2 |  
         p_c dist   2  2 | 2
            value   2  2 | 2
           m dist     20 |  
            value     20 |  
           s dist  10 20 |  
            value 100 20 |