Hello!
I am working on the SVI implementation of the hierarchical Poisson factorization (http://www.cs.columbia.edu/~blei/fogm/2020F/readings/GopalanHofmanBlei2015.pdf).
The structure of the model is as follows: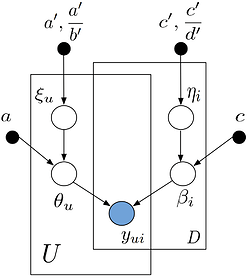 I have a pyro implementation of this model, but now I need it to be optimized for large sparse matrices, and I am primarily focusing on memory optimization. However, as far as I understand, pyro does not support sampling sparse tensors other than iterating all the elements one-by-one in a 'for' loop.
What is currently the best way to do SVI on sparse matrices? Is there a way to do that more or less efficient in pyro/numpyro?
I would really appreciate some advice!