Hello community,
I am new to Bayesian models and to pyro (and numpyro). I am trying to use a small Bayesian Network on simple synthetic data, with no success so far.
I am trying to reproduce this simple example with a simple BNN from this tutorial.
The model and training procedure is in the minimal example below.
The problem I am facing is the following:
There is no noise in the data generated, so I would like to specify a small variance in the output, hence the small sigma scale in the last Normal prior. Is it the correct way to do it ?
If I keep a scale with a Gamma prior as in the numpyro tutorial, my model is too simple with high variance and does not fit the data
If I use a small prior on the scale, the NUTS has a large number of steps (3000/3000 [04:38<00:00, 10.76it/s, 1023 steps of size 1.62e-03. acc. prob=0.93) and the final model does not fit the data (see attached image)
Any idea of what is wrong in my model or training procedure?
Thanks.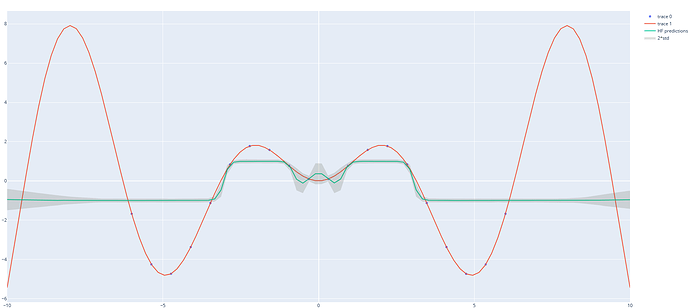 import jax.numpy as jnp
import jax.random as random
from jax import vmap

import numpy as np
import numpyro
from numpyro import handlers
import numpyro.distributions as distnumpyro
from numpyro.infer import MCMC as MCMCnumpyro
from numpyro.infer import NUTS as NUTSnumpyro
from numpyro.infer import Predictive as PredictiveNumpyro
import os
from collections import namedtuple
import time
import plotly.graph_objects as go
from collections import namedtuple


def model_bnn_numpyro(X, Y, hid_dim=50, out_dim=1):
    N, D_X = X.shape
    D_H = hid_dim
    D_Y = out_dim
    activation = jnp.tanh
    # sample first layer (we put unit normal priors on all weights)
    w1 = numpyro.sample("w1", distnumpyro.Normal(jnp.zeros((D_X, D_H)), jnp.ones((D_X, D_H))))
    b1 = numpyro.sample("b1", distnumpyro.Normal(jnp.zeros(D_H), jnp.ones(D_H)))
    z1 = activation(jnp.matmul(X, w1) + b1)  # <= first layer of activations

    # sample final layer of weights and neural network output
    w3 = numpyro.sample("w3", distnumpyro.Normal(jnp.zeros((D_H, D_Y)), jnp.ones((D_H, D_Y))))
    b3 = numpyro.sample("b3", distnumpyro.Normal(jnp.zeros(D_Y), jnp.ones(D_Y)))
    z3 = activation(jnp.matmul(z1, w3) + b3) # <= output of the neural network

    # we put a prior on the observation noise
    #prec_obs = numpyro.sample("prec_obs", distnumpyro.Gamma(3.0, 1.0))
    #sigma_obs = 1.0 / jnp.sqrt(prec_obs)
    sigma = 0.05

    # observe data
    with numpyro.plate("data", N):
        numpyro.sample("Y", distnumpyro.Normal(z3, sigma).to_event(1), obs=Y)

# helper function for HMC inference
def run_inference(model, args, rng_key, X, Y, D_H):
    start = time.time()
    kernel = NUTSnumpyro(model)
    mcmc = MCMCnumpyro(
        kernel,
        num_warmup=args.num_warmup,
        num_samples=args.num_samples,
        num_chains=args.num_chains,
        progress_bar=False if "NUMPYRO_SPHINXBUILD" in os.environ else True,
    )
    mcmc.run(rng_key, X, Y, D_H)
    #mcmc.print_summary()
    print("\nMCMC elapsed time:", time.time() - start)
    return mcmc.get_samples(), mcmc

if __name__ == "__main__":
    # Generate training and test data
    x_train = np.linspace(0, 1, 20)
    x_train = x_train * 12 - 6
    y_train = x_train * np.sin(x_train)

    x_test = x_test = np.linspace(0, 1, 100)
    x_test = x_test * 20 - 10
    y_test =  x_test * np.sin(x_test)

    d_input = [
        go.Scatter(x=x_train, y=y_train, mode='markers'),
        go.Scatter(x=x_test, y=y_test, mode='lines')
    ]

    # Sample via MCMC
    rng_key, rng_key_predict = random.split(random.PRNGKey(0))
    Args = namedtuple("args", "num_warmup num_samples num_chains")
    args = Args(1000, 1000, 1)

    samples, mcmc = run_inference(
        model_bnn_numpyro,
        args, 
        rng_key,
        x_train[:,np.newaxis],
        y_train[:,np.newaxis],
        500
    )

    # Get the posterior samples
    predictive = PredictiveNumpyro(model_bnn_numpyro, samples)
    predictions = predictive(rng_key_predict, X=x_test[:,np.newaxis], Y=None, hid_dim=500)['Y'].squeeze()
    mean_prediction = jnp.mean(predictions, axis=0)
    std_prediction = jnp.std(predictions, axis=0)
    yplus = mean_prediction + 2*std_prediction
    yminus = mean_prediction - 2*std_prediction

    # Plot it
    go.Figure(
        d_input + [
            go.Scatter(x=x_test, y=mean_prediction, mode='lines', name='HF predictions'),
            go.Scatter(
                x=x_test.tolist() + x_test.tolist()[::-1], # x, then x reversed
                y=yplus.tolist() + yminus.tolist()[::-1], # upper, then lower reversed
                fill='toself',
                fillcolor='rgba(100,100,80,0.2)',
                line=dict(color='rgba(255,255,255,0)'),
                hoverinfo="skip",
                showlegend=True,
                name='2*std'
            )
        ]
    ).show()