Hi there,
I want to implement a WAIC (Watanabe–Akaike information criterion) to help me on model evaluation & seletion. For this purpose, I need to calculate a log pointwise predictive density (lppd) as follows: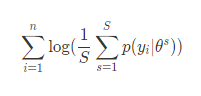 This involves a density for each posterior sample and each observation.
And I noticed that there is a runtime utility log_density() in NumPyro.
My question is, can I use it, first get the log density, and then simply apply a np.exp() operation to its return value to get the desired density? Or if any better suggestion to calculate the density?
Many Thanks!