I've implemented the simple 1d Gaussian example from intro to pyro thus:
def model(hparams, y=None):
    prior_mean, prior_sd, obs_sd = hparams
    theta = numpyro.sample("theta", dist.Normal(prior_mean, prior_sd))
    return numpyro.sample("y", dist.Normal(theta, obs_sd), obs=y)

I can do posterior inference (of theta) in this using MCMC thus:
mu = 8.5; tau = 1.0; sigma = 0.75;
hparams = (mu, tau, sigma)
nuts_kernel = NUTS(model)
mcmc = MCMC(nuts_kernel, num_warmup=100, num_samples=1000)
mcmc.run(rng_key_, hparams, y)

Now I want to generate new samples from the unconditional joint. I tried this
data = model(hparams)
print(data)

but get this error: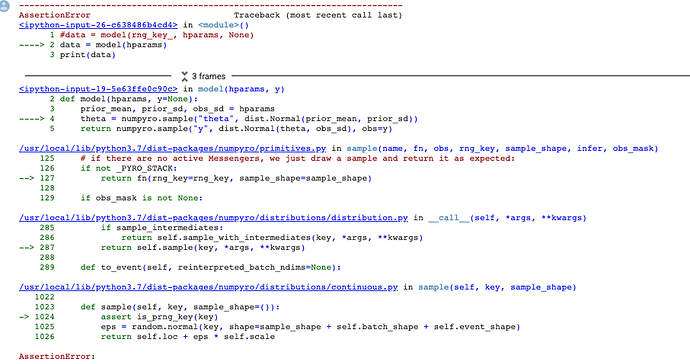 What does this mean?
I also tried model(rng_key, hparams) and model(hparams, None) and model(rng_key, hparams, None) but none of these work.