I was trying to understand what types of graphical models I can fit with Pyro. After reading through Chris Bishop's book on pattern recognition and machine learning, as well as Gelman's book on bayesian data analysis, I have a basis sense of the range of models out there. But I am not sure what kinds of models can be fit with Pyro.
For example, it seems like the basic bayesian regression and hierarchial bayesian models are very well suited to pyro, especially because Pyro can do approximate variational inference. Pyro can also do things like Variational Autoencoders.
However, I was hoping that someone could explain whether Pyro can handle more complex models that use message passing algorithms like the sum-product algorithm, or expectation propagation. What software is used to run those types of models, and at scale? A good example is something like the
Trueskill system developed by Microsoft and visualized below–sorry for the quality of the screen capture. So this is a model that requires EP. Can we fit a model like this in Pyro, or is there some better tool?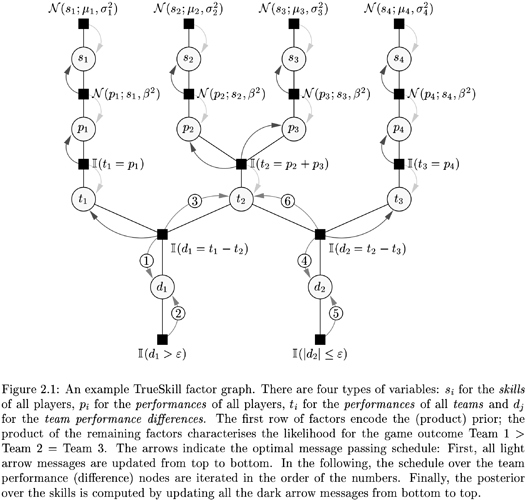 Now I saw a reference to this type of model, in the tutorial:
https://pytorch.org/tutorials/beginner/nlp/advanced_tutorial.html
Are there additional tutorials like this for Pyro? What would be the correct tutorials/documentation to look at to see how to implement Trueskill in Pyro.